Enable custom domain in salesforce

Hi Guys,
Today I explain to you that How to enable custom domain in salesforce
What is a custom domain?
A custom domain is which helps us to make a custom URL to login and look and feel like it your own branded URL. By using a custom domain you can help users to log in to salesforce from social media like Facebook, Twitter, Linked In..so on.
Why custom domain is required?
In order to start lightning in salesforce, we need to have a custom domain. Now I am running lightning application without domain it shows below error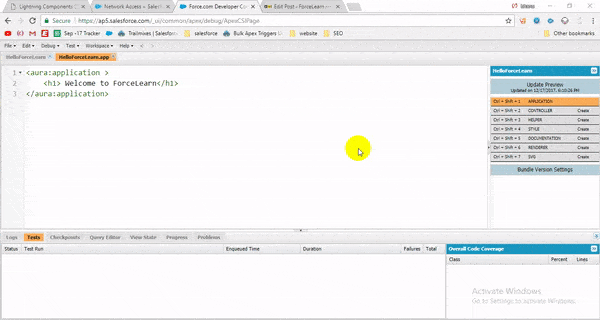 Steps to enable a custom domain in salesforce
Step1:
In order to set up a custom domain you need to go Path: setup- domain(in a quick search)- MyDomain.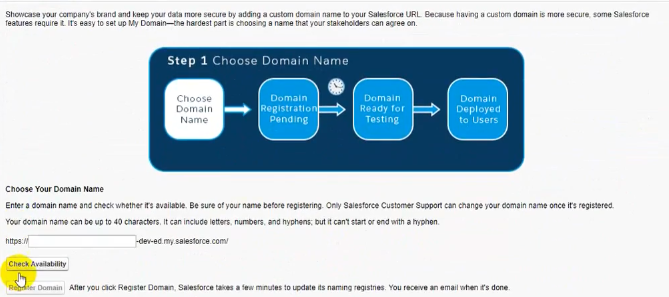 Choose your requested domain type in a search for forcelearn1234 and click on check availability

If you find your domain successfully click on register domain and wait for a couple of minutes.

you will receive mail for salesforce login to your domain and then deploy to all users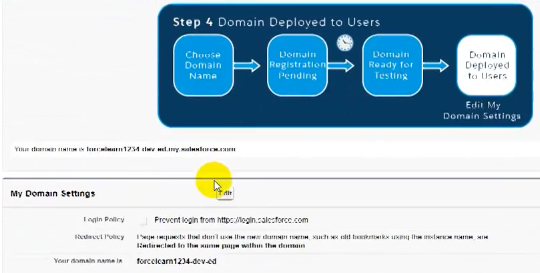 Note: They are some restriction provided by salesforce like you sub-domain need not contain keywords like www, salesforce, Heroku you domain need not be started with root, status, a -(hyphen).