Salesforce integration with Quip

Hi Folks,
Nice to see you again, Today I am trying to explain salesforce integration with Quip.
What is Quip?
Quip is a smarter cloud-based collaboration platform. It helps us to create, discuss, and do tasks quickly with our team on any device. It reduces the time of meetings and sending mail so that we can reduce using third-party applications in your company.
Why do I need to use Quip we have already other applications?
Quip stores everything in the cloud, so we can remove tension like store doc, spreadsheets in our local system, and its syncs with the internet so we can any files on any device. Quip mobile app will help to do a task in lightning speed and Quip allow provides a desktop application for their users
It provides live editing of docs and many peoples can view and access documents at the same time.
By using many applications, you do your work done from one particular place. But by using Quip you can get all work done from any place like create and share documents, chats, tasks.
You can leave the tension of store multiple versions of the same documents, Quip is always to update automatically.
If you talk about integrations !!! Dude it's a salesforce product, it has deep native integrations to salesforce and Quip API allows users to automate their processes and integration for your team.
By using of quip
You can design your project plans, territory plans, checklist, meetings notes, documentation.
It will provide notification alerts and an update screen helps you to know your and your teammate's activities.
You can make favorites of your important documents and chatter conversation Like social networking your share documents to particular users by mentioning @username.
you can add images, a checklist, a spreadsheet.
you can create a shareable link to users and your share docs to external users who are not employees in our company.
you can import your documents from other clouds likes google drive, dropbox, Evernote, hack pad, basecamp.
Installation of Quip in your organization Quip SignUp
1. Go to Quip Signup
2. Enter your email address and click Sign Up
3. Then your Quip homepage will open like below
Install the Quip Connect for Salesforce App
1. Go to below URL Quip App Exchange link
2. click on get it now
3. In the Log In to AppExchange dialog that appears, click Log In.
4. If prompted, log in using your username and password.
5. If you return to the listing on AppExchange, click Get it Now.
6. Click Install in Production.
7. Once complete it shows the done screen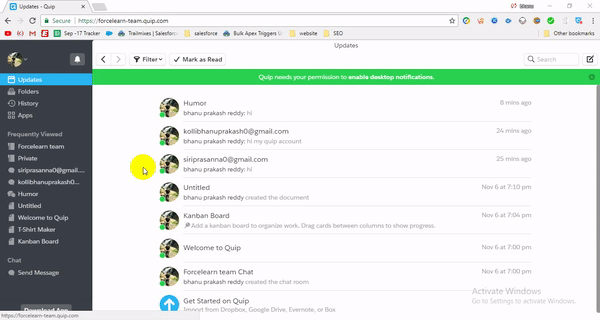 View Salesforce Reports in Quip
1. Switch to Lightning Experience
2. Click on app launcher and search for Open Reports in Quip under All Items.
3. Go for a required report and click on the open in Quip

4. It will open to redirect to quip click on ok.

5. Sign in to Quip Account to see salesforce integration with Quip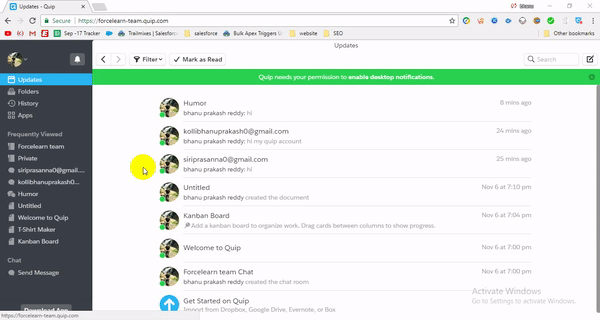 Happy learning !! we have configured salesforce integration with quip.