Set Up Two-Factor Authentication in Salesforce

Two-Factor Authentication helps you secure more authentication based on user login. Two-Factor Authentication contains two things or two factors required to access your account. The first factor is something you know like your username and password and the second factor is Something you have like a connected mobile device which show secure code need to matched to successfully log in to your account.
Two-Factor Authentication is also known as 2FA, two-step verification, or TFA.
We utilize Two-Factor Authentication much more time in our day to day activities like when you access your Google account when the email is connected to the mobile device it shows a popup like numerical to tap that matches on your screen. When you are making any banking transaction, you will get OTP(One Time Password) is required to complete your transaction successfully.
Now it's time to secure your salesforce org from risk vulnerabilities.
How to Set Up Two-Factor Authentication in Salesforce ??
Firstly, you need to create a permission set to set up two-factor Authentication in salesforce
Path: Setup — Administer — Manage users — Permission Set
Click on New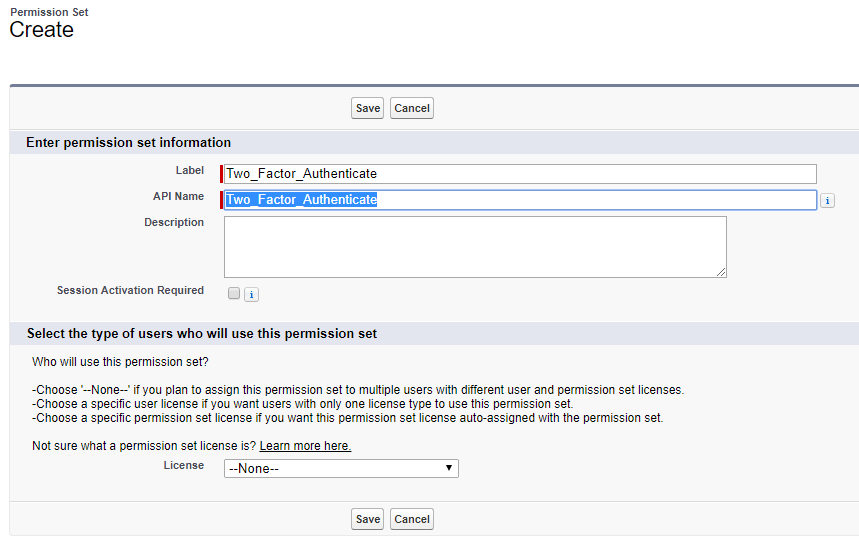 Label as Two_Factor_Authenticate
API is Auto-generated like
click on save.
then move to Under system, click on System Permissions.

click on edit and check Two-Factor Authentication for User Interface Logins and click on save.

Tap on Manage Assignments and add assignments to required use to required two-factor authentication.

Click on Assign.

Tap on Done.
Now you have successfully assigned permission set to the user. Logout if that user is already login
what's more, attempt to re-login again, now you will get a salesforce authenticator popup on your screen to move further you need an Android or IOS application that needs to be installed on the phone.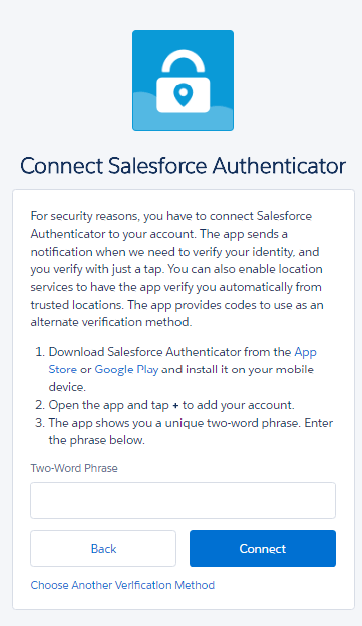 Download and install Salesforce Authenticator for iOS from the App Store or Salesforce Authenticator for Android from Google Play
Enter your security code to which display on phone. For first-time connection, it asks Two-Word Phrase which displays on the Salesforce Authenticator app. Then you need to provide once you connected successfully. you need to enter a security code that displays to your mobile phone to login into your account.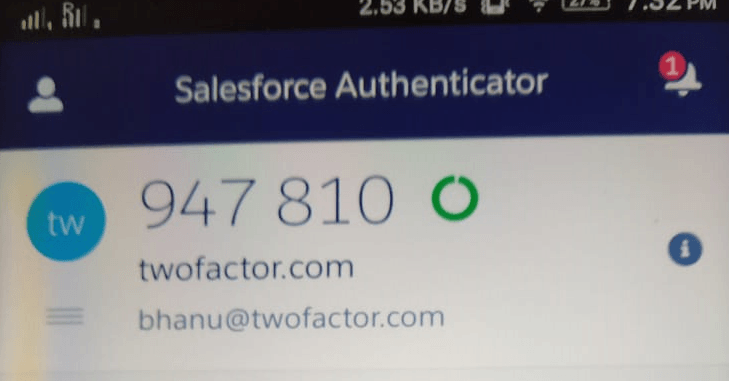 Then we need to enter Salesforce Authenticator secure code into your browser login page.